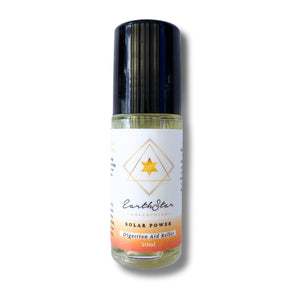 Solar Power - Digestion Support Roller
Regular price $23.00 Sale
With chamomile, fennel and ginger.
A topical elixir to help soothe indigestion, bloating, and nausea and balance the Solar Plexus Chakra.
These herbs, flowers, and oils are blended for their ability to support the digestive process. Applied topically and inhaled after eating a meal, they may help to reduce symptoms of poor digestion. Chamomile, bergamot, lemon balm and peppermint also help to calm and soothe stress which can interfere with the body's natural digestive process. Lemon, ginger, bergamot and juniper energetically support and balance the solar plexus. When the energy of the solar plexus flows freely, so too does the digestive fire. The roller is convenient to carry with you and use any time of day or night to encourage a healthy and balanced digestive system.
Ingredients: Fractionated coconut oil, essential oils (fennel seed, ginger, cardamom, lemon, bergamot, roman chamomile, may chang, lemon balm, star anise, juniper, peppermint).
To Use: Shake well to blend natural ingredients. After meals or when experiencing discomfort, apply the roller liberally onto your abdomen and massage in large clockwise motions until the oil is absorbed. Breathe deeply into palms of hands. Repeat as needed. 

Size: 30ml
*The above information is a lifestyle suggestion only. Solar Power is not considered a medication and should not replace prescriptions or advice from a medical professional.