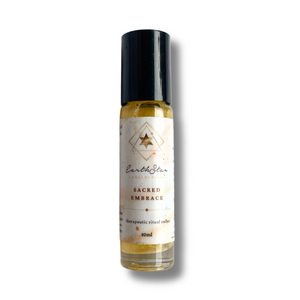 Sacred Embrace - Therapeutic Ritual Roller
Regular price $24.00 Sale
Be transported into a warm embrace with this soothing blend of sacred woods and resins. 
Sacred Embrace therapeutic roller can be worn as a perfume or as needed for relaxation, stress relief and energy protection. It holds a fusion of deeply grounding and protective forest woods from palo santo*, sandalwood, copaiba and Peru balsam, black spruce and buddha wood, connecting you to nature and Spirit. Frankincense and myrrh resin's earthy scents anchor you into your body and the present moment. Lavender calms and soothes, while lime and vanilla uplift your mood and bring forth joy and peace.
*Our top quality palo santo oil is sustainable and steam distilled from fallen deadwood collected in the protected forests of Peru.
Ingredients: Fractionated coconut oil, essential oils of sandalwood, copaiba balsam, Peru balsam, black spruce, frankincense, myrrh resin, palo santo, buddha wood, lavender, vanilla, lime, natural mineral mica, Reiki energy, love & intention. 
To use: Roll onto pulse points as needed as part of your daily self care ritual. Breathe deeply. 
Size: 10ml