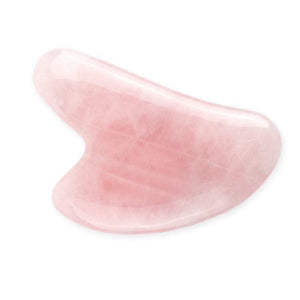 Rose Quartz Gua Sha Tool
Regular price $14.00 Sale
This self care tool is revered for it's many skin health benefits, including improving fine lines and wrinkles, lymphatic flow, circulation, collagen production and reducing inflammation. 
When used together with our Glowing Beauty Oil  , the art of gua sha creates a wonderful morning or evening ritual; a time and space where you can connect with your essence. The combination of the loving energy of rose quartz and the soothing, grounding essential oils of the Beauty Oil will have you feeling blissed out and full of . 
*Please note, each gua sha tool is unique and will vary slightly in size, shape and colour*

How to Gua Sha:
Apply a desired amount of Ritual Glow Beauty Oil and spread evenly across your face so that your gua sha tool glides easily over your skin. For basic gua sha, use the straighter edge of the tool and pull it across your skin in outward and upward motions with medium pressure. Repeat the process across your face for 3-5 minutes until your skin has a light blush colour. Don't forget to admire your beautiful reflection in the mirror as you take in the healing, loving aromas of the essential oils.