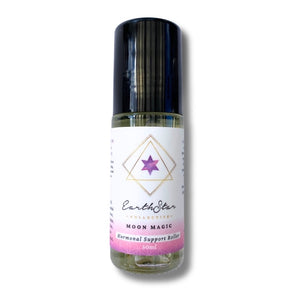 Moon Magic - Hormone Support Roller - PMS Relief
Regular price $27.00 Sale
With magnesium, clary sage and angelica root.
A topical elixir to support relief of PMS, cramping, hormonal mood changes and menopause symptoms, connect you to your feminine essence and balance the Sacral Chakra.
These herbs, flowers, oils and minerals are blended for their abilities to relieve cramping, release tension and anxiety, uplift mood and balance feminine hormonal fluctuations. Magnesium helps to relax the tension, headaches and cramping that can come with pre-menstrual syndrome. Clary sage and angelica root (dong quai) have been used for centuries in herbal medicine for their oestrogen balancing and antispasmotic (anti-cramping) properties. They, along with other floral herbs in this blend, can also help to stabilise hormone-related mood fluctuations. This blend also energetically support the sacral chakra, bringing forth creative flow, emotional connection and a healthy sexual desire. These gentle, natural ingredients help to provide relief for those times of the month when the body needs a little extra TLC.
Ingredients: Fractionated coconut oil, magnesium chloride, essential oils (clary sage, angelica root, bergamot, blue tansy, lavender, white grapefruit, lemon balm, ylang ylang, myrrh, rose geranium, thyme, peppermint).

To Use: In the week leading up to your period, shake well and apply Moon Magic roller to your womb area and massage until absorbed. Breathe deeply into cupped hands to take in the calming, mood boosting scent. For acute PMS, like cramps, fatigue and headache, repeat throughout the day as needed.
Size: 30ml
*It is normal for magnesium chloride to create a slight tingling, burning, itching sensation on the skin.
*The above are lifestyle suggestions only. Moon magic is not considered a medication and should not replace prescriptions or advice from a medical professional.