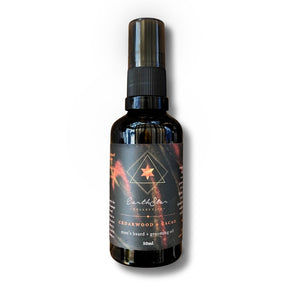 Men's Beard + Grooming Oil - Cedarwood and Cacao
Regular price $27.00 $23.00 Sale
Something NEW just for the men... but ladies, you are going to love this one too! ;)
(Imagine him smelling like the alluring, sensual scent of sweet, chocolatey cacao, deep, woody cedarwood, and subtly spicy, invigorating cardamom.)
Gentlemen, this nourishing grooming oil will work wonders on your beard and skin. A blend of deeply hydrating oils rich in fatty acids, like hemp seed, coconut, black cumin and avocado bring life and shine to dry, fuzzy beards, while their collagen-promoting antioxidants bring a youthful glow to your oft-forgotten man skin. These oils are infused with hair loving herbs like rosemary, horsetail and ginkgo biloba, which help to promote hair growth, reverse greying and reduce itch and inflammation of the skin and scalp. We then add extract of sea buckthorn for vitamin C, and essential oils that not only boost the hair health benefits but also smell decadent and irresistible. It's an all-in-one-grooming-and-skincare-routine-dream for the low maintenance dude.
Ingredients: Hemp seed oil, avocado oil, black cumin seed oil, fractionated coconut oil, grapeseed oil, sea buckthorn extract, herbal infusions (ginkgo biloba, rosemary and horsetail), essential oils (patchouli, rosemary, bergamot, cedarwood, cocoa absolute, peru balsam, cardamom).
To use: Apply one pump to the palm of your hand and massage into beard and face until absorbed, ensuring you reach the skin beneath your beard. This oil can also be worked into the scalp to assist hair growth, or to soothe itch and reduce flakiness. Leave in for 30 minutes, then shampoo.
Size: 50ml