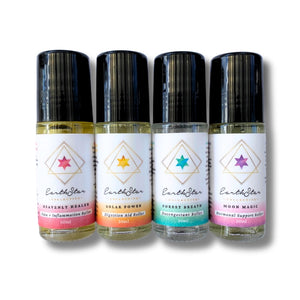 Holistic First Aid Kit
Regular price $83.00 Sale
A full set of our jumbo holistic first aid rollers.
Heavenly Healer - Pain & Inflammation roller - With Magnesium, Arnica and Turmeric.
An anti inflammatory, topical elixir to help relieve injuries, sore muscles, pain and inflammation.
Solar Power - Digestion Aid Roller - With Chamomile, Fennel and Ginger.
An empowering, topical elixir to help soothe indigestion, bloating, nausea and balance the Solar Plexus Chakra.
Forest Breath - Decongestant Roller - With Eucalyptus, Peppermint and Balsam.
An antimicrobial, topical elixir to help relieve symptoms of colds, allergies, sinus and chest congestion.
Moon Magic - Hormone Support Roller - PMS Relief - With Magnesium, Clary Sage and Angelica Root.
A balancing, topical elixir to help relieve PMS, cramping, hormonal mood changes and menopause symptoms and balance the Sacral Chakra. 
See individual listings for ingredients and more info <3
*The above information is a lifestyle suggestion only. These rollers are not considered a medication and should not replace prescriptions or advice from a medical professional.