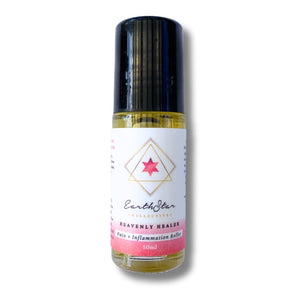 Heavenly Healer Pain and Inflammation Roller
Regular price $27.00 Sale
With magnesium, arnica and turmeric.
An anti inflammatory, topical elixir for injuries, sore muscles, pain and inflammation. Handmade with love, intention and everything 100% natural.
These herbs, flowers, oils and minerals are blended for their powerful healing abilities. Turmeric and frankincense bring forth their potent anti inflammatory properties, while ginger, wintergreen and peppermint warm then cool achy muscles, soothe and promote blood flow and circulation. Lavender calms and encourages healing. Eucalyptus, black spruce and copaiba balsam have been revered by indigenous cultures for centuries for their analgesic properties, reducing pain in joints and muscles. Arnica reduces inflammation and swelling and is especially helpful for injuries. 
Ingredients: Fractionated coconut oil, magnesium chloride, arnica infused oil, essential oils of frankincense, turmeric, eucalyptus, lavender, peppermint, wintergreen, black spruce, ginger + copaiba balsam.
To Use: Shake well to blend natural ingredients. Apply the roller liberally onto your area of concern and massage deeply into your skin until the oil is absorbed. Reapply as often as needed.

Size: 30ml
Avoid contact with light coloured clothing to prevent stains. Do not use on open wounds.
*It is normal for magnesium chloride to create a slight tingling, burning, itching sensation on the skin.
*The above information is a lifestyle suggestion only. Heavenly Healer is not considered a medication and should not replace prescriptions or advice from a medical professional.