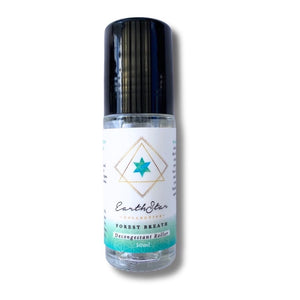 Forest Breath Decongestant Roller
Regular price $23.00 Sale
With eucalyptus, peppermint and balsam.
An antimicrobial, topical elixir for colds, allergies, sinus and chest congestion. Handmade with love, intention and everything 100% natural.
These herbs, flowers and oils are blended for their powerful healing abilities, including highly potent antibacterial activity, inhibition of seasonal cold viruses and immune system support. Balsam fir and eucalyptus help to support a healthy respiratory system and nasal passages, while peppermint and sweet birch open airways allowing you to breathe more deeply. Lavender is highly antimicrobial and also promotes a state of calm, aiding in a more restful sleep. Rosemary is anti inflammatory, an expectorant and a cough suppressant. Together they create Forest Breath which is also available in pure essential oil form for your diffuser!
Ingredients: Fractionated coconut oil, essential oils of eucalyptus, peppermint, lavender, rosemary, sweet birch + balsam fir.
To Use: Shake well to blend natural ingredients. Apply the roller liberally onto your chest before sleep to help open airways. For daytime use, roll into palms of hands and rub together. Cup over your nose and mouth and breathe deeply. You can also massage into soles of feet twice a day for immune support.
Size: 30ml
*The above information is a lifestyle suggestion only. Forest Breath is not considered a medication and should not replace prescriptions or advice from a medical professional.