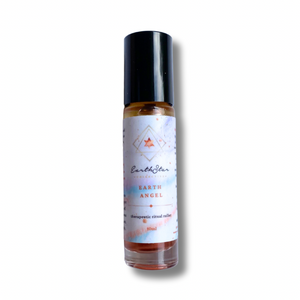 Earth Angel - Therapeutic Ritual Roller
Regular price $23.00 Sale
Experience Heaven on Earth with this connecting blend of sacred woods and precious flowers. 
To use, adorn yourself as a natural perfume or roll onto pulse points as needed as part of your daily self care ritual. Breathe deeply. 
Earth Angel therapeutic ritual roller can be worn as a perfume or as needed for energetic detox, activating intuition and connecting to Earth's rhythms and cycles. As humans we are innately one with nature and our Earth, but so many things in our modern lives interfere with this fine energetic tether. Earth Angel blend was created to help you strengthen that lifeline to nature, bringing you and your body more in tune with the ebbs and flows of Earth's cycles- the moon phases, the seasons, and sacred feminine cycles. It holds a fusion of earthy sandalwood, ho wood, patchouli and frankincense, grounding you into your body and purifying your energy. Floral rose otto and rose geranium carry ultra high frequencies and help to lift your vibration and detoxify negative thought patterns, emotions and memories. The less density and energetic clutter we have within us, the more naturally we connect to sacred cycles. Juniper also aids in the cleansing process while balancing the third eye and activating intuition. Earth Angel reminds us of our true nature as a powerful force of nature, a spiritual being inhabiting a human body on Earth.
Ingredients: Fractionated coconut oil, essential oils of rose absolute, lavender, rosemary, rose geranium, sandalwood, juniper, frankincense, sweet orange, vanilla, ho wood, patchouli, moonstone, natural mineral mica, love & intention. 
Size: 10ml