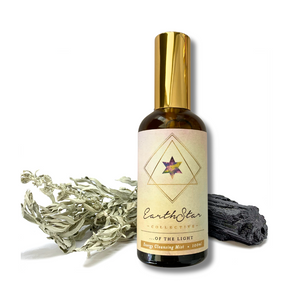 Of the Light - Energy Cleansing Mist
Regular price $26.00 Sale
Aura Cleanse + Protection
Purify your energy field with this protective blend of sacred white sage and refreshing mint and citrus.
Protection, Space Clearing, Aura Cleansing.
White sage is revered by ancient indigenous cultures for its ability to ward off negativity and low vibrational energies. The burning of white sage, or "smudging" has been used in ritual and ceremony for many millennia and is a beautiful process for releasing what no longer serves us. Of the Light is our smokeless twist on smudging, using the potent oils of white sage to create strength in the aura and raise your vibration to shed unwanted emotions and energies. This blend is highly recommended for people who are "empathic" and sensitive to the emotional states of others around them. Spritz Of the Light throughout your aura before leaving home for the day for protection and again upon return for an energy cleanse. 
Ingredients: Purified water, sugar cane alcohol*, vegetable glycerin*, pure essential oils (frankincense, white sage, lime, peppermint), jojoba oil, black tourmaline crystal, Reiki energy, love & intention. *certified organic ingredients
Size:100ml
To use: Spray liberally around the body, through the aura and around any room or space you wish to cleanse. You may like to enhance this energy cleansing by setting an intention to fill the newly cleansed space with light, love and peace, or any other high vibration you wish to experience.
Stop. Spritz. Breathe Deeply. Smile. Feel Refreshed and Renewed.
About the key ingredients in this blend:
Frankincense: The powerful vibrational properties of this sacred resin purifies mind and body and acts as energetic protection. It is exceptional for enhancing intuition, grounding and spiritual connection in and out of meditation.
White Sage: Through its antiseptic nature and ability to release negative ions into the air, white sage purifies and cleanses on both the physical and energetic level. It has been used for thousands of years to creates a safe and positive environment for meditation, prayer and intention setting by ridding a space of unwanted energy. 
Peppermint: Peppermint eases tension and anxiety, creating a calming environment for focus or relaxation.
Lime: The humble lime has been used by tribal cultures for millennia for aura cleansing and to absorb negative energy around the home.  
Black Tourmaline: A fierce stone of energy protection and purification, black tourmaline is also an amazing absorber of electromagnetic radiation and environmental pollutants. It is powerfully connected to the root chakra, keeping you feeling grounded and safe.