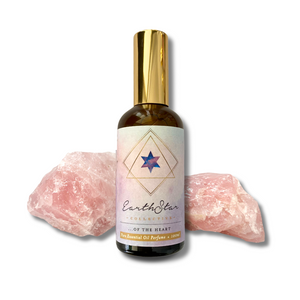 Of the Heart - Therapeutic Perfume Mist
Regular price $26.00 Sale
Self Love + Emotional Healing
Burst open your heart with this loving, feminine blend of sweet citrus and precious petals.
To use, adorn yourself as a natural perfume or as needed therapeutically around your body and space as part of your self care ritual. For:
Emotional Healing, Relationships, Deepening Self-Love, Divine Feminine Energy.
Ingredients: Purified water, sugar cane alcohol*, vegetable glycerin*, pure essential oils (frankincense, grapefruit, vanilla, chamomile, mandarin, sweet orange, jasmine), jojoba oil, rose quartz crystal, Reiki energy, love & intention. *certified organic ingredients 
Size:100ml
Stop. Spritz. Breathe Deeply. Smile. Feel the Love. 
About the key ingredients in this blend:
Frankincense: The powerful vibrational properties of this sacred resin purifies mind and body and acts as energetic protection. It is exceptional for enhancing intuition, grounding and spiritual connection in and out of meditation.
Jasmine: Linked directly to both the heart centre and crown chakra, Jasmine flows with pure love, compassion and sensuality while enhancing self awareness. It helps us to deal with emotional issues in a calm and balanced way, especially those pertaining to love and relationships. 
Grapefruit: This beautiful pink citrus fruit encourages a loving relationship with the body, creating a bond of self-respect and gratitude. 
Mandarin: Mandarin brings out the playful, fun-loving inner child. It opens our hearts to accepting new love and connections without fear and allows us to let go of negative emotions from the past. 
Sweet Orange: Awakens the heart to comfort and love and brings in higher expressions of joy.
Vanilla: Sweet and soothing for the soul, vanilla evokes sensuality and romance.
Rose Quartz: The stone of the heart centre, rose quartz delivers healing to all aspects of our relationships—romance, friendship, family and self-love. It soothes a broken heart with the energy of unconditional love and forgiveness.