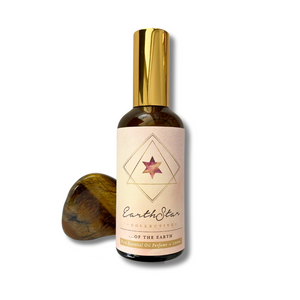 Of the Earth - Therapeutic Perfume Mist
Regular price $26.00 Sale
Anxiety + Sleep Support
Be held by the Earth with this grounding, fresh blend of sacred resins and tranquil flowers.
To use, adorn yourself as a natural perfume or as needed therapeutically around your body and space as a part of your self care ritual. Of the Earth also makes a perfect night time pillow spray to help you drift into a deep, restful sleep. 
Calmness, Inner Strength, Mindfulness, Deep Sleep.
Ingredients: Purified water, sugar cane alcohol*, vegetable glycerin*, pure essential oils (frankincense, chamomile, lavender, vanilla, patchouli), jojoba oil, tiger's eye crystal, Reiki energy, love & intention. *certified organic ingredients
Size: 100ml
Stop. Spritz. Breathe Deeply. Smile. Feel the Peace.
About the key ingredients in this blend:
Frankincense: The powerful vibrational properties of this sacred resin purifies mind and body and acts as energetic protection. It is exceptional for enhancing intuition, grounding and spiritual connection in and out of meditation.
Chamomile: Easily dissolves stress, anxiety and even physical pain symptoms with it's sweet scent and muscle-relaxant properties. Promotes happiness and a calm and clear state of mind. 
Vanilla: Sweet and soothing, vanilla reduces nervous tension and agitation, and promotes blissful relaxation.
Lavender: Purifies and cleanses on a spiritual level while providing grounded focus on the mental plane. The utmost powerful oil for deep blissful relaxation. It instills a sense of calm even in times of high stress.
Patchouli: Patchouli's deep, musky scent is truly "of the Earth". It draws forth the sacredness of life while attracting abundance and prosperity. Patchouli encourages the spirit to drop deeply into the physical body, connecting us with nature and Earth's healing vibrations. 
Tiger's Eye: A stone of earth and fire elements, tiger's eye welcomes Earthly fortune while invigorating courage and strength. These attributes aid us in overcoming times of stress and chaos in life by creating the trust that we are safe and provided for. It encourages harmony and balance in the energy field and brings focus to the mind.